Astley Mobility Employment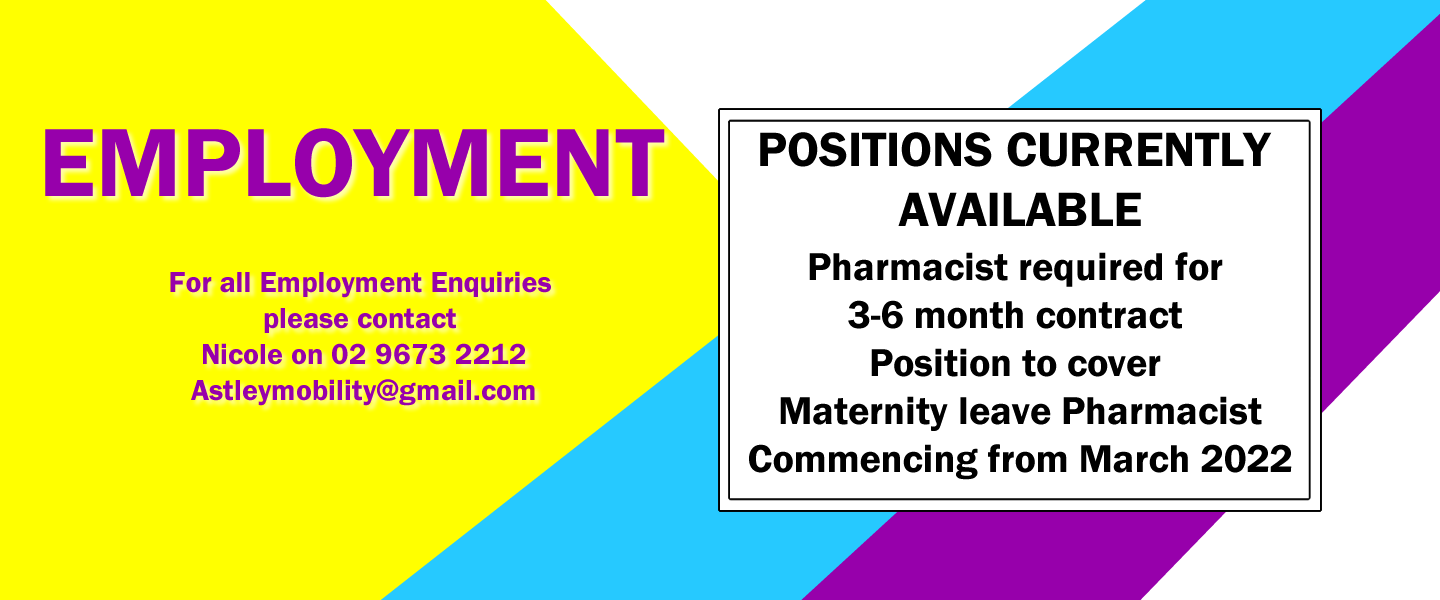 Position Available
Temporary Pharmacist - March 2022 Commencement Date
Contract Period: 3-6 Months
To cover an Employee that will be going on Maternity Leave,
Job Description:
An exciting opportunity has become available to join the team at Astley Pharmacy as a Pharmacist!
The Pharmacist will primarily be responsible for dispensing, providing professional pharmacy services and exceptional customer service to our valued customers.
Duties will include:
Dispensing scripts
Providing counselling as required to customers
Processing orders for dispensary stock and maintaining inventory levels
You will have:
Exemplary communication & interpersonal skills
High professional standards
Great work ethic
Current pharmacist registration with AHPRA
We are looking for individuals who have a strong work ethic, great communication skills and are willing to learn and grow with the business! Exemplary working conditions and competitive salary on offer for the suitable candidate.
Only those required for an interview will be contacted.
Part-time hours: Monday, Wednesday, Friday 8:30am - 8:00pm
Benefits:
Licence/Certification:
AHPRA Pharmacist Registration (Required)
Covid-19 Vaccine Certificate (Required) 2x Dosage Requirement
Work Remotely:
If this sounds like the right position for you, please contact Nicole Whittaker on 02 9673 2212 or send your resume and cover letter with the Position in the title to astleymobility@gmail.com